2:42 AM
ndeso , Posted in
Brian Austin Green Tattoos
,
0 Comments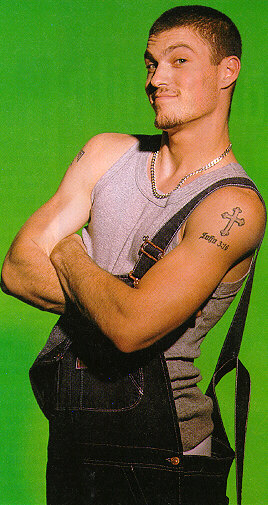 Brian Austin Green has come a long way since his David Silver and 90210 days. Currently David is involved with the Sarah Conner Chronicles on Fox. David has had much success with this new show,which has quickly become a hit show and has quit the following. Even though Brian Austin Green has broken up with his longtime very hot girlfriend, Megan Fox there is still one thing that the two still have in common and share a love for, tattoos.
Below is a list of some of Brian Austin Green's tattoos:
1. Brian has an Aztec thunderbird design on right shoulder
2. A cross on his left shoulder
3. Under the cross on his left shoulder reads JOHN 3:16
4. A tattoo of Megan's name located somewhere on his body, which he is probably regretting right about now
5. He has his son's name Kassius tattooed on the inside of his left arm in some sort of old English writing.
6. A big dragon wrapped around his lower right forearm and his elbow.
7. Blue and white flames going up his left bicep.
Once again people take this as a lesson learned. Absolutely do not get a lover's names tattooed on you no matter what. It is literally the kiss of death. You may not break up the next day or week or even month, but some day down the line you will break up. It's like putting a cruse on your relationship not to work out. So beware of the lover's name tattoo. However, you can also take note from Brian and get your child's name tattooed on you, if you are dying to get someones name tattooed on you.